Japan's first graduate school for fashion professionals,
established with more than about 100 years of accumulated
expertise in fashion education.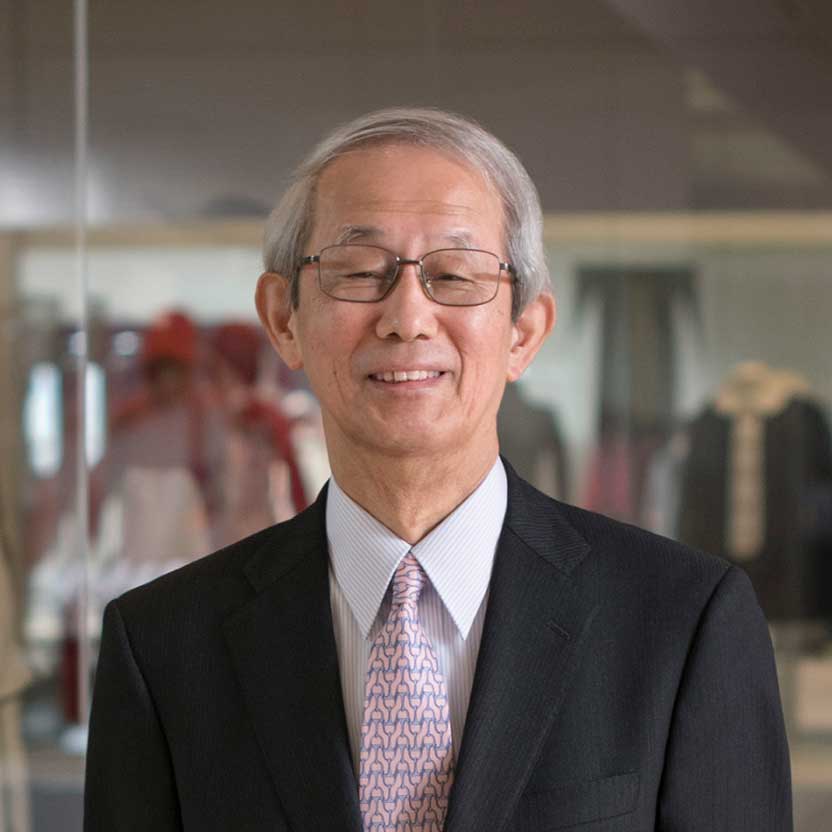 The biggest problems that Japan's fashion business who have build a certain status in the world has faced are that designers do not have enough understanding of business management, while business managers lack an adequate understanding of design. When one considers fashion as a global business, multiple perspectives in management, finance, production control, quality control and other areas are required, in addition to originality in designs and superb technical skills. To nurture new leaders for the next generation of the fashion industry, BFGU was established in 2006 by Educational Foundation Bunka Gakuen, a leading institution of fashion education in Japan, based on its about 100-year track record and expertise. By combining theory and practice, we will be nurturing "new creators," as primary objective helping them establish their own brands or business models on the global fashion business scene.
BFGU came into existence by accumulating the expertise and achievements of Bunka Gakuen Educational Foundation which has had a leading role in fashion education in Japan for over ninety years. Bunka Gakuen has produced new leaders who hold two perspectives namely creation and management. Since its foundation in 1923, Bunka Gakuen has created a variety of collaborative activities with various cities around the world through fashion, joint research with industries, publications, cultural and research activities in connection with fashion. At the same time, Bunka has been developing advanced fashion education and forming many prominent designers. BFGU was established from this historical background as the first graduate fashion university in Japan that values both strong "expertise" and "skills". Our aim is to educate new professionals in the fashion industry who can create Japanese brands on the global fashion business scene.
What is a Professional Guraduate School?
A Professional Graduate School is a new type of graduate school that has been newly established in 2003. Traditionally, graduate schools have focused on training students to become researchers. However, professional graduate schools focus on specialized training so the students can become business leaders with high professional business ability. A major feature of professional graduate schools is the promotion of high level, professional training and practical business education through practical lessons, by inviting professors and lecturers who play an active role in the forefront of their field.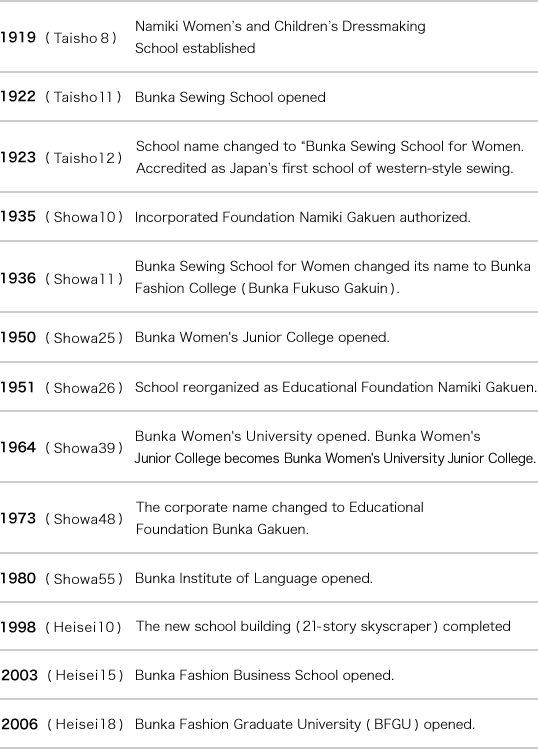 We form talented people who are not only able to
create 'fashion' but also capable of creating 'fashion business'

As Japan's only graduate university that aims to nurture fashion professionals, the BFGU offers unique and excellent features. First, it integrates the field of fashion creation with fashion management to learn the practical skills required to manage creative and design skills. With the unprecedented combination of these two divisions, the graduate school implements high-level education to foster the growth of professionals. Second, the graduate students can make extensive use of the world-leading premises and facilities that Educational Foundation Bunka Gakuen has developed and accumulated over the years. Third, the graduate university organizes various industry-academia collaborative projects to offer students opportunities to gain practical business experience. Based on this thorough, all-round environment for education and research, students are able to acquire not only theories but also practical knowledge and techniques as their first step and nice equipment for their development in the fashion industry.
We have designed our courses and curriculums to
revolve around practical education in order to prevail
in an increasingly competitive fashion market.
Division, Course
At BFGU, we provide two divisions of specialization, Fashion Creation and Fashion Management within the Graduate School of Fashion Business. The aim is to educate talented people who have the intellect and skills to prevail in the world's fashion market. In agreement with the previously mentioned three fields of study in fashion business, we have established three courses: Fashion Design Course, Fashion Technology Course, and Fashion Business Administration Course.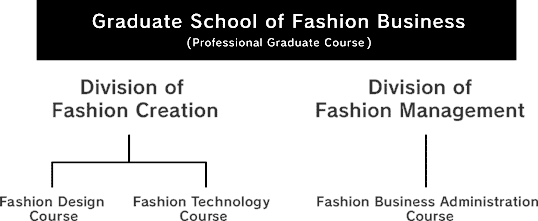 Wide-ranging curriculum that incorporates many fields
In addition to producing fashion business, which provides consumers with fashion of satisfactory value, BFGU has classified fashion business into three fields of study:
| | |
| --- | --- |
| 1) | "Design field of study", which produces original fashion. |
| 2) | "Technology field of study", which considers the production line commercializing the designer's sensitivity in addition to developing the production system. |
| 3) | "Management field of study", which complements the value of fashion and connects design sensitivity to profit. |
We believe that we can build a highly competitive and global fashion brand by aligning these three fields. Namely, talented people who are aiming at the next generation fashion business need to combine "high sensitivity", "rich skills", and "a clear strategy". BFGU is producing talented graduates who are capable of establishing business models that create "intellectual property" known as fashion.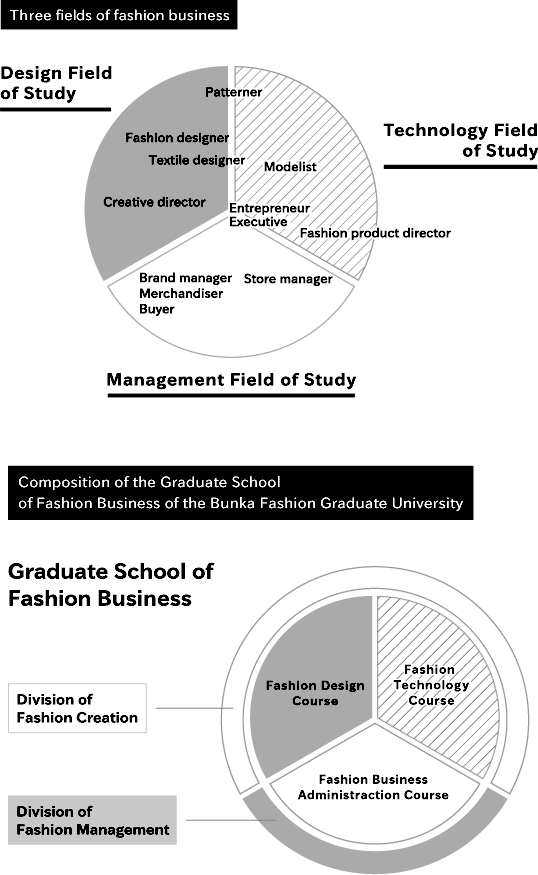 In accordance with the purpose of each course, we have structured the curriculum in the Graduate School of Fashion Business in agreement with the Design field of study, Technology flied of study, and Management field of study. Moreover, graduate students must initiate their own subject of study. We have organized for each course a Project to investigate, to study, to create, and to present with the aim of putting the theories of fashion business into practice.
In addition to our curriculums focusing on real case studies, our professors are also businesspersons who have played an active part in leading positions in the fashion industry. Graduate students will also study the latest and advanced business skills from, and achieve motivation through, visiting professors and visiting special lecturers, including designers such as Mr. Atsuro Tayama.