Message from the President

The biggest problems that Japan's fashion business who have build a certain status in the world has faced are that designers do not have enough understanding of business management, while business managers lack an adequate understanding of design. When one considers fashion as a global business, multiple perspectives in management, finance, production control, quality control and other areas are required, in addition to originality in designs and superb technical skills. To nurture new leaders for the next generation of the fashion industry, BFGU was established in 2006 by Educational Foundation Bunka Gakuen, a leading institution of fashion education in Japan, based on its 95-year track record and expertise. By combining theory and practice, we will be nurturing "new creators," as primary objective helping them establish their own brands or business models on the global fashion business scene.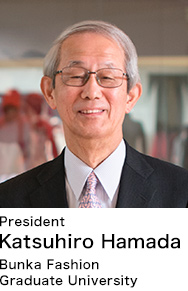 BFGU came into existence by accumulating the expertise and achievements of Bunka Gakuen Educational Foundation which has had a leading role in fashion education in Japan for over ninety years. Bunka Gakuen has produced new leaders who hold two perspectives namely creation and management. Since its foundation in 1923, Bunka Gakuen has created a variety of collaborative activities with various cities around the world through fashion, joint research with industries, publications, cultural and research activities in connection with fashion. At the same time, Bunka has been developing advanced fashion education and forming many prominent designers. BFGU was established from this historical background as the first graduate fashion university in Japan that values both strong "expertise" and "skills". Our aim is to educate new professionals in the fashion industry who can create Japanese brands on the global fashion business scene.