At BFGU, we provide two divisions of specialization, Fashion Creation and Fashion Management within the Graduate School of Fashion Business. The aim is to educate talented people who have the intellect and skills to prevail in the world's fashion market. In agreement with the previously mentioned three fields of study in fashion business, we have established three courses: Fashion Design Course, Fashion Technology Course, and Fashion Business Administration Course.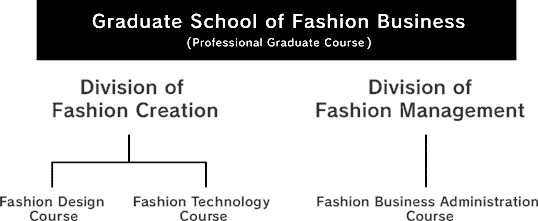 In addition to producing fashion business, which provides consumers with fashion of satisfactory value, BFGU has classified fashion business into three fields of study:
| | |
| --- | --- |
|  1) | "Design field of study", which produces original fashion. |
|  2) | "Technology field of study", which considers the production line commercializing the designer's sensitivity in addition to developing the production system. |
|  3) | "Management field of study", which complements the value of fashion and connects design sensitivity to profit. |
We believe that we can build a highly competitive and global fashion brand by aligning these three fields. Namely, talented people who are aiming at the next generation fashion business need to combine "high sensitivity", "rich skills", and "a clear strategy". BFGU is producing talented graduates who are capable of establishing business models that create "intellectual property" known as fashion.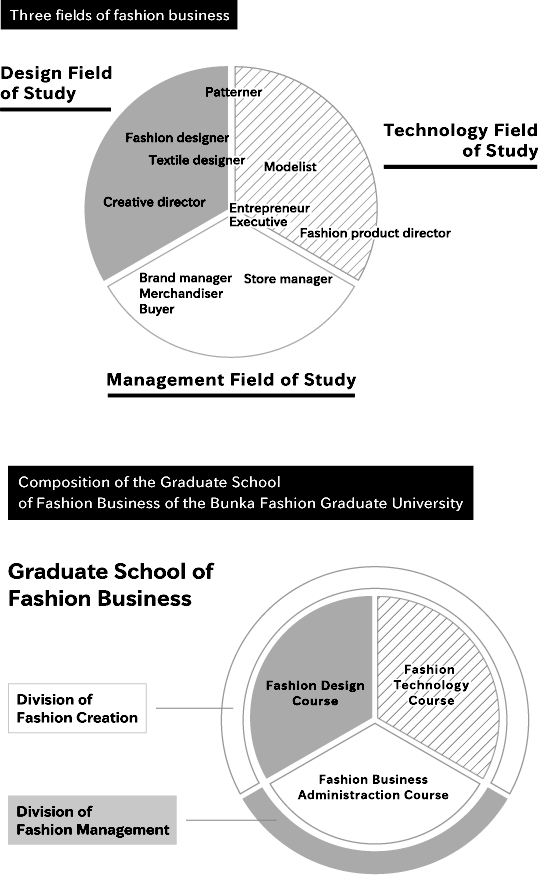 In accordance with the purpose of each course, we have structured the curriculum in the Graduate School of Fashion Business in agreement with the Design field of study, Technology flied of study, and Management field of study. Moreover, graduate students must initiate their own subject of study. We have organized for each course a Project to investigate, to study, to create, and to present with the aim of putting the theories of fashion business into practice.
In addition to our curriculums focusing on real case studies, our professors are also businesspersons who have played an active part in leading positions in the fashion industry. Graduate students will also study the latest and advanced business skills from, and achieve motivation through, visiting professors and visiting special lecturers, including designers such as Mr. Atsuro Tayama.