Division of Fashion Management

The fashion management discipline aims to educate producers, entrepreneurs, and executives in the fashion business. This Fashion Business Administration Course's discipline, which studies the art and science to manage and to transform the intellectual property of fashion into a business, can be regarded as a Master of Business Administration (MBA) course.
New graduates from various universities' colleges, working citizens, and foreign students from various countries have joined this discipline. These graduates from various backgrounds constitute the special attributes of this discipline.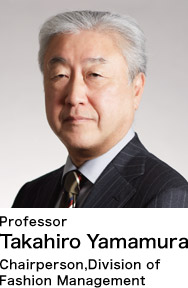 This discipline's curriculum essentially comprises:
(1) Management field of study to prepare students in the management skills required in the fashion industry
(2) Design field of study to prepare students in the planning management skills and planning to commercialize creation as a business and to provided them with the knowledge of the culture of fashion and fashion promotion
(3) Technology field of study to prepare students in the management skills of technology relevant to the fashion industry
Students are encouraged to develop planning and management skill necessary for fashion management, with a sufficient balance in logical skills, which are required for global business.
The fashion business is a market where things can change quickly and young talented people can challenge themselves. It is regarded as a world where one can purse "one's heart's content", which satisfies each individual's liking and sensitivity. This cultural life proposal driven business model, which connects sensitivity to profits, is indispensable to succeed in the fashion business in the future. We hope to gather talented people, who will improve their skills at BFGU and venture into business proposing to the world.
Fields where graduates can work in the future
You can work in various fields, including a buyers, merchandiser and key person who develops and manages fashion business