Division of Fashion Creation

We ask our students to spare no effort in conducting research to produce their own fashion brand in a span of two years. This is the way we educate our graduate students who major in Fashion Creation. We have divided this discipline into Fashion Design Course to nurture designers who will lead the world of fashion, and Fashion Technology Course to raise fashion technologists such as modelists who will commercialize designs. To establish an original fashion brand with a competitive edge on the global market, professors and lecturers, blessed with pragmatic expertise and comprehensive knowledge, are committed to providing thorough instruction to every graduate student.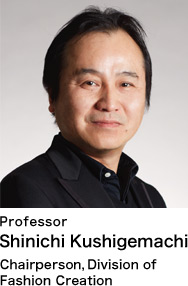 At the same time, the students must plan their respective research concept and present the results at the end of the first and the second year. Through two years of intensive instructions, the graduate students are expected to realize their own theme and create a foundation for their own fashion brand.