Division of Fashion Creation

We ask our students to spare no effort in making research to produce their own brand in a span of two years. This is the way we educate our graduate students at the fashion creation field of study. We have divided this discipline into a fashion design course to form designers, who will lead the world of fashion, and a fashion technology course to form technologists, who will commercialize a design. To master these courses is crucial for a foundation of brand, as so to speak, the role of this field of study is to create an "intellectual property" known as fashion design. Our education is extremely demanding since we aim at establishing a Japanese brand, which will compete around the world.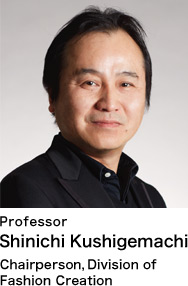 In this field of study, the technicality of each field is obvious for every course, and professors and lecturers, blessed with pragmatic expertise and comprehensive knowledge relevant to the fashion business, provide thorough instructions. At the same time, the students must plan their respective research concept and present "the basic research and creation" at the end of one year and "the completion research and creation" at the end of the course. Since BFGU is a graduate university for specialists, rather than learning, the research activity of the student takes priority. Consequently, we have a policy of tutoring a small number of exceptional talents as to enable the professors to attentively support each student individually in his/her research activities in the form of seminars.
We expect the students, who aim for this field of study, to first like fashion and to have the ambition to venture into starting their own business. We also hope that students will enjoy creating business out of fashion. It is essential too to have the physical strength to create a new self in a span of two years. We regard "Intuition and inspiration", which cannot be accomplished by a machine, as very important. It is of great importance to surpass oneself and to first challenge the limits of one's ideas.
You can work as a designer, modelist or manufacturing engineer who creates fashion brands.