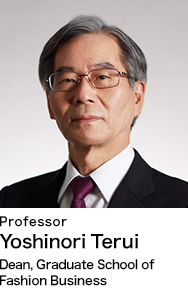 At present, on no account can we say that Japan's apparel industry is enjoying a strong position internationally. BFGU believes, as one reason for this is the fact that "there is a problem with way of forming gifted people".
Until recently in Japan, the training of gifted people sustaining the fashion industry was entrusted almost exclusively to technical and vocational schools. Thanks to this educational system, many talented creators and engineers were able to receive education. However, the system did not train gifted people with a sense of business to hoist the fashion business. Moreover, the system was hardly capable of grooming talented people, who had the business sense to energize the industry. Against this background and conditions, BFGU aims at the education of talented people capable of producing "an original Japanese fashion" on the global market through education and research, which approaches the fashion industry from a business perspective.
The fashion industry in Japan has seldom until now considered formal education of designers and technicians, who take the lead in building brands, as that important. However, in the world's fashion industry where gifted people of different cultures and sense of values intermingle, academic achievement, which encourages research, is attracting the industry's attention. This is because it befits the proof of intellect and skills that make the outstanding sensitivity and expertise fruitful for business.
It is also possible for students to establish their own brand while studying at BFGU because of the school's practical tuition style and research. From the day when students enter BFGU the next generation of fashion business starts being created.